Moon Journals: The Intersection of Science, Literacy, and Art
Friday, April 29, 2022, 12:00 – 8:30 PM
Cooper Center for Environmental Learning
Cost: FREE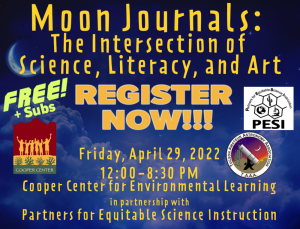 Join us for an afternoon and evening of inquiry, writing, and art, all stemming from a moon journal. Participants will keep a moon journal, a daily/nightly record of observations of the moon and day/night sky, for two weeks prior to the workshop. More information to help you get started will be provided when your registration is confirmed.
We encourage you to take advantage of this fabulous opportunity to spend time in nature and share a meal with colleagues while exploring possibilities for fully integrating curriculum and sharing the wonder of our own dark skies.
Participants should bring water and a snack.
 Partners for Equitable Science Instruction (PESI) will be providing dinner. 
There will be a guest speaker between 6:30 p.m. – 7:30 p.m. when it gets dark enough for stargazing.
Tucson Amateur Astronomy Association will bring telescopes for night sky viewing after sunset.
Moon Journals: The Intersection of Science, Literacy, and Art in partnership with Partners for Equitable Science Instruction (PESI) is FREE to attend!
Register for the Moon Journal Workshop 

HERE
Thanks to generous funding from the Davis Memorial Scholarship Fund ,
Cooper Center can offer to cover the cost to attend and the cost of substitutes if needed.